"Most of my life," she says,
"I've been in search of IT.
And I thought IT came inside a big box
carefully marked and labeled
and numbered.
I brushed away all the
'incidental' discoveries
like cobwebs.
But now everything counts.
Now I search for traces of miracles...
and I find them everywhere."
~ Monique Duval (#172)
I pulled out a little book called "The Persistence of Yellow" the other day and fell in love with Monique Duval all over again!
So - last week... I did it. It took me from October through most of March and I can't quite explain how I felt at the writing down of #1000!
Happy; accomplished - yes.
Sad... because it's over - yes.

Wait... no.
No - it's not over! I am never done counting...
So we start over again at #1!
Where are you on your counting of one thousand gifts today? What are among the blessings you have took notice of, and grabbed hold of lately? I'd love to hear...
Linking up this morning with Ann Voskamp and "multitudes on mondays" over at a holy experience.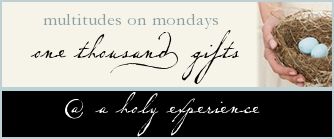 Speak Life. Be Love. Shine On.